2021 South Queensland Caravan, Camping, Fishing & 4×4 Expo
9 – 11 APRIL 2021
NAMBOUR SHOWGROUNDS, SUNSHINE COAST QLD
The 2021 South Queensland Caravan, Camping, Fishing and 4×4 Expo will showcase a wide variety of local and national companies, all in the one convenient location! The Expo features everything from the latest caravans and camper trailers through to holiday and tourism destinations, boating, camping, motoring and fishing accessories, vehicles, tools and more.
The event takes place at Nambour Showgrounds, Coronation Avenue, Nambour, Sunshine Coast, just North of Brisbane. The Sunshine Coast Region is the third most populated place in Queensland with an estimated population of over 350,000. The region also attracts more than 3.2 million visitors each year.
This event is expected to attract in excess of 12,000 local outdoor adventure enthusiasts over three very busy days. Place your business in front of this targeted audience!
2020 EVENT STATISTICS
Statistic data received from 2020 exhibitors and visitors who subscribed to the event newsletter
Are events important to your sales strategy in the current economic climate?
How would you rate Australian Events ability to run a Covid Safe Event ?
Good – Excellent

100%

100%
Did the 2020 South Queensland Expo assist your business to secure more sales and leads?
How would you rate the success of this event for your company?
Do you intend to exhibit again in 2021?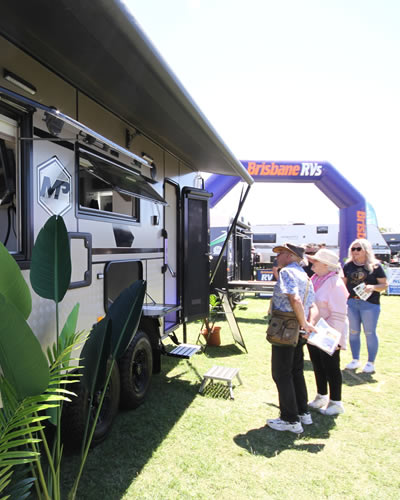 The Australian Events team and expos are not only very professional and well organised, they are vital for future economy growth. We are pleased to be a regular exhibitor and look forward to all future expos
I have been exhibiting at shows for 21 years and I have never been as busy as I was at this particular show. Customers were equally as impressed at the quality of Cub Campers on display as I was in the number of patrons visiting my stand.
Australian Events run a tight ship. They are organised and nothing is left to guesswork. Over the years I have been able to showcase my products to an industry specific audience as well as make new business contacts who now purchase through us on a regular basis. The 2020 South Queensland Caravan, Camping, Fishing & 4×4 Expo was another success and there is no doubt that the power of these events is often underrated. Without them, my business would not be thriving to the extent that it is today. A big thank you to event management for their professionalism and great attitude and I look forward to many more years of exhibiting through Australian Events.
This event was promoted very well which drew the crowds in, giving us the opportunity not only to touch base with repeat customers but assist all the new RVer's that are now traveling Australia.
The show was run very professionally with obvious consideration for the safety and well being of patrons. An excellent show. Well done to Australian Events for getting such great shows up and running in extremely difficult circumstances.
How would you rate this event overall?
Are you likely to attend the event next year?
Did you find the products and services you were interested in at this event?
We really enjoyed this event. It gave us the opportunity to compare the various items and so handy all being in one place. We also got to buy some LED lighting which was a bonus.
I really enjoyed this event, it was a good 5 hours worth of enjoyment. There was plenty of variety, and we got to actually look at all the exhibits.
My husband and myself enjoyed our first time at the Expo. We loved comparing different models of caravans that would suit our needs. My husband didn't think he would enjoy it as much, but he said to me… "I'm glad I came, I was really impressed, I really enjoyed myself he said.
The avent was well put together. The stall holders were polite friendly and very helpful. The camp oven cooking was a big thumbs up and had trouble dragging my wife away but what she learned is playing off big time to my waistline.
We really enjoyed the Expo, as always. Lots to look at, and Covid restrictions were well managed to keep everyone safe. Well done to all concerned.
We were extremely impressed with this event, especially considering COVID requirements! It had so many new and innovative ideas and a large variety of choices! Loved this event and will go to the next one!
Enjoyed the event this year. Appreciated all the effort that went into the COVID SAFE plan. Found the caravan we love at this event and bought it!
We had a great time at the Expo, we especially loved being able to compare different models all in the one location! Always looking to upgrade my gear.
We enjoyed the event. We thought it was well laid out and we're impressed by the number of vendors and the quality of their products.
We loved this year's expo. The expo was well spaced out, sanitization areas were terrific and all the staff and vendors were so lovely! Can't wait for next year!
Loved the Expo and found pricing of items really competitive. Great range of items to look at and view.
We enjoyed the day. New products were very interesting. A go shop for caravan and camping accessories.
Best one yet from the last 4 years. More exhibitors and a better range for 4×4's as opposed to being dominated by caravans. More fishing items would be ideal considering we are on the coast
My daughter has recently purchased a caravan , we had a great time buying accessories
WEBSITE STATISTICS – WEEK OF EVENT

FACEBOOK EVENT PAGE STATISTICS