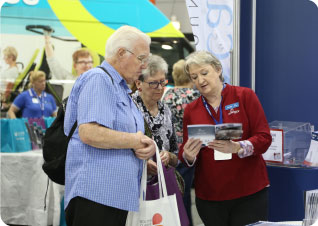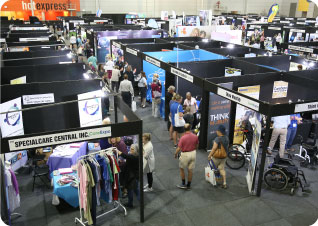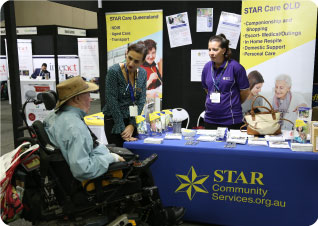 Exhibit at Care Expo Brisbane
Care Expo is an industry-leading event providing an unparalleled opportunity for community services, businesses and organisations within the health, care and support industries to reach a targeted audience at our states premier exhibition centre, the Brisbane Convention and Exhibition Centre.
The event will provide an opportunity for those working within the industry and for end users alike to discover and connect with providers from aged care, disability and in-home support through to education, mobility, mental health, social, recreational services and more.
This event is a must attend for the health, care and support industries. Place your business in front of this targeted audience and benefit from the additional promotion, brand awareness, sales and leads that will follow.
Exhibitor Enquiries
For further event information and site bookings, contact Australian Events Marketing on FREECALL 1800 671 588
EXHIBITOR OPPORTUNITIES NOW OPEN
The 2021 Care Expo Brisbane offers a unique sales, marketing and networking opportunity, allowing exhibiting companies to directly access a highly targeted market.
The event provides resources, information, products and services to industry professionals and end users, enabling them to discover and connect with local and regional providers from a range of health, support and care related backgrounds.
Place your business in front of this targeted audience and expand your business through targeted promotion, leading to increased brand awareness, sales and leads.
This event has successfully run at the Brisbane Convention and Exhibition Centre and is estimated to attract over 140 exhibitors and 4,000 patrons in 2021.
For further event information or to book your site, FREECALL 1800 671 588.
WHAT PATRONS ARE LOOKING FOR
Aged Care
Disability Services
Food Preparation/Nutrition
Government Departments
Health Services
Home Modification Ideas
Independent Cooking Ideas
In-Home Services
Living Aids
Mental Health Services
Mobility Aids
Motor Vehicle Conversions
NDIS Endorsed Products/Services
NDIS Workshops
Pain Relief Options (e.g. Plant-based)
Palliative Care Options/Support
Rehabilitation Services
Speakers Programs
Being at the Care Expo was an excellent opportunity for me to promote my small business within the care community and to the general public. Many conversations were held and further opportunities generated. Thanks to the Care Expo organisers for holding such a great event!
The Care Expo team and organisers did an excellent job supporting and organising this event, and should be commended for their professionalism and the way they assisted in making the most of the show during COVID.
This was our first time at Care Expo and it exceeded my expectations significantly! Good mix of General Public and Health Professionals coming through the doors in good numbers, and lots of opportunities to network with other exhibitors. See you in 2020
ITEC Group was proud to be part of The Care Expo held in Brisbane. An amazing time to meet over 1000 kind-hearted people from many different cultures sharing their experiences, seeking guidance and requesting support. Within the 2 days we were very privileged to meet so many different and astounding organisations and services providing such a fantastic support and/or service to the community. ITEC Group was also very impressed with the professional setup and staff involved in the daily operations of the event and found every worker to be extremely supportive.
The venue was excellent and it was managed very well. We interacted with a variety of guests who genuinely showed interest in our service.
The Care Expo is a vital part to exposing the opportunities and services that are available to support an aging community.
The Care Expo was well organised and we were pleasantly surprised as to the large numbers of people who attended both days. Well done!!
It is apart of our values at Afford to share the information of how to navigate and obtain the correct services associated with the NDIS. Care Expo Australia is a great platform from which we can educate those looking at spplying for the NDIS as well as those that already have a plan.
Exhibitor Enquiries
Site bookings for the 2021 Care Expo Brisbane are now open.
Companies interested in exhibiting in 2021 are encouraged to contact the Australian Events Marketing office at their earliest convenience.
FREECALL 1800 671 588