This massive event is back again in 2018 and will be bigger and better than ever! With both exhibitor and visitor attendance at an all time high, it's easy to see why this event just continues to get bigger and better every year! This event features over 180 local and national companies displaying the very latest products and services. Showcasing some of Queensland's and Australia's best caravan, camper trailer, motorhome and boating dealers, all in the one location. The Event will also showcase dozens of complementary companies, providing a whole range of products and services, including holiday and touring information, camping, 4x4 and boating accessories, insurance services, bush cooking, tools and loads more. The event will provide a great day out (or three) for the entire family, with stacks of daily entertainment, prizes, competitions and more. We look forward to seeing you at the 2018 Moreton Bay Caravan Camping, Boating and 4x4 Expo!
Moreton Bay Caravan, Camping and Boating Expo
16TH – 18TH FEBRUARY 2018
REDCLIFFE SHOWGROUNDS, REDCLIFFE, BRISBANE, QUEENSLAND
EXHIBITOR INFORMATION PACK
Grab your copy of the Moreton Bay Expo Exhibitor Pack which contains all important event information, site pricing, maps and more!
EXHIBITOR ENQUIRIES FREECALL 1800 671 588
2017 EVENT STATISTICS
Statistic data received from 2017 exhibitors and visitors who subscribed to the event newsletter
The Moreton Bay Expo Event Guides were distributed 112,000 through the Courier Mail SEQ. A further 8,000 copies of the Event Guide were handed out to patrons at the entrance gates to the event. In all 120,000 copies were distributed.
Thanks to Bob and the team for a great job at the Moreton Bay Caravan and Camping show. You guys sure know how to bring the people out on the day!
ARB
The event was well run by super friendly staff in all areas. Nothing was a drama and if it was we just said Betta Call Saul 🙂 It felt comfortable this year and all the event staff were happy which really shines through. We made some sales and met a lot of people and from the number of people who went through our 31ft Longreach I am sure the locals enjoyed having us there as much as it was good to be there.
Avida Gold Coast
We at SeaBreeze Kayaks were impressed with the organisation of the Moreton Bay Caravan, Camping, Boating and 4×4 Expo. We found event staff to be helpful, welcoming and knowledgeable. The website and social media links and promos were great and easy to use. Customers were pleased with the low entry fee and range of stalls, products and shows.
SeaBreeze Kayaks
The event was well planned, advertised, and attended. All of the staff were very helpful and great to work with.
Boab Boats Redcliffe
This was our first experience in exhibiting our folding houses at a show, but it has turned out to be an invaluable experience and certainly won't be our last. Well over 1000 people come to our display house in the three days which has done much to raise the awareness and enquiry about our products.
Anembo Homes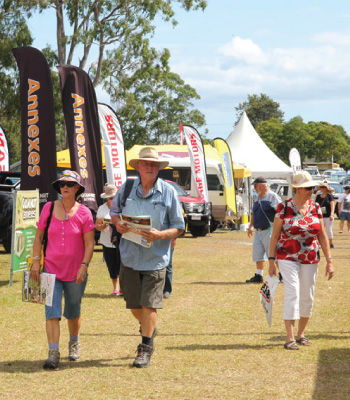 How would you rate this event overall?
Will you attend the event next year?
Did you make any purchases at this event?
Do you intend to make a purchase at a later date from an exhibitor you saw at this event?
Simply complete the form and an Australian Events representative will be in contact with you shortly!
EXHIBITOR ENQUIRIES FREECALL 1800 671 588
MAIN PRODUCTS OF INTEREST
Camping Equipment & Accessories

56%

Accessories & Parts

48%

Auto & 4×4 Accessories

42%

Camper Trailers

40%

Caravans

39%

Boats & Fishing Accessories

32%

Tourism & Holiday Destinations

21%

Electronics & Communications

17%

Adventure & Sporting Equipment

17%

Motorhomes & Campervans

12%

Trailers & Towing Equipment

11%

Clothing & Apparel

11%

Vehicles, Utes & 4×4's

11%

Tyres & Wheels

9%

Roof Top & Slide On Campers

7%

Clubs & Groups

5%

Health & Lifestyle Products

4%

Insurance & Financial Services

2%

Other

3%
The event was great and I came away with an unexpected small purchase.
Kevin
It's a great way to find out what's new, and to get the latest gadgets for on road life.
Mary-Anne
Enjoyed entering the competitions and only went to look but purchased products. Liked the fact that there was an easy to follow map on the entry leaflet. Surprised to see some of the extra stalls as I thought it was only going to be specific products.
Wendy
Great time and will be back next year.
Steven
We came away with lots of information about what we were looking for in a caravan.
Brenda
Absolutely loved the show. Scored a fantastic bargain on a fridge!
Ross
It was well set out, good variety, very friendly exhibitors and informative!
Troy
Was a great day out to see and touch the products and learn new ideas!
John
EMAILS SENT OUT TO SUBSCRIBERS
Our popular Email Newsletter Club consists of patrons who have joined to receive information about the event. Featured exhibitors, list of exhibitors, Entertainment, Competitions and Prizes were continually promoted within these emails sent out daily and weekly leading up to the event.
JOIN OUR EVENT NEWSLETTER!
Stay up to date with event information PLUS go into the draw to win family passes to the event and more!
WEBSITE STATISTICS
(THE WEEK OF EVENT)
Fill out the form to get more information about exhibiting at Moreton Bay Expo!
EXHIBITOR ENQUIRIES FREECALL 1800 671 588