2017 TOWNSVILLE EXPO
INCORPORATING TOWNSVILLE CARAVAN, 4X4 & OUTDOOR ADVENTURE EXPO
8 – 10 September 2017
REID PARK, TOWNSVILLE, QUEENSLAND


8 – 10 SEPTEMBER 2017, REID PARK, TOWNSVILLE, QUEENSLAND.
The new look Townsville Expo, incorporating the Townsville Caravan, 4x4 and Outdoor Adventure Expo, returns to Reid Park Townsville for 3 massive days on the 8th, 9th and 10th September 2017.
This event features a major showcase of camper trailers, caravans, motor homes and all things 4x4. The Townsville Expo will also now be home to a major showcase of all things boating and fishing, from jet skis and tinnies to off shore boating.
The new look event will now also incorporate a wider range of products and services for our homes and outdoor lifestyle. From pools and spas to tanks, sheds, tools and more, you will find it all at the Townsville Expo, the biggest leisure and lifestyle event ever staged in Townsville.
EVENT WEBSITE – http://townsvilleexpo.com.au
EXHIBITOR ENQUIRES – FREECALL 1800 671 588 or use our Online Enquiry Form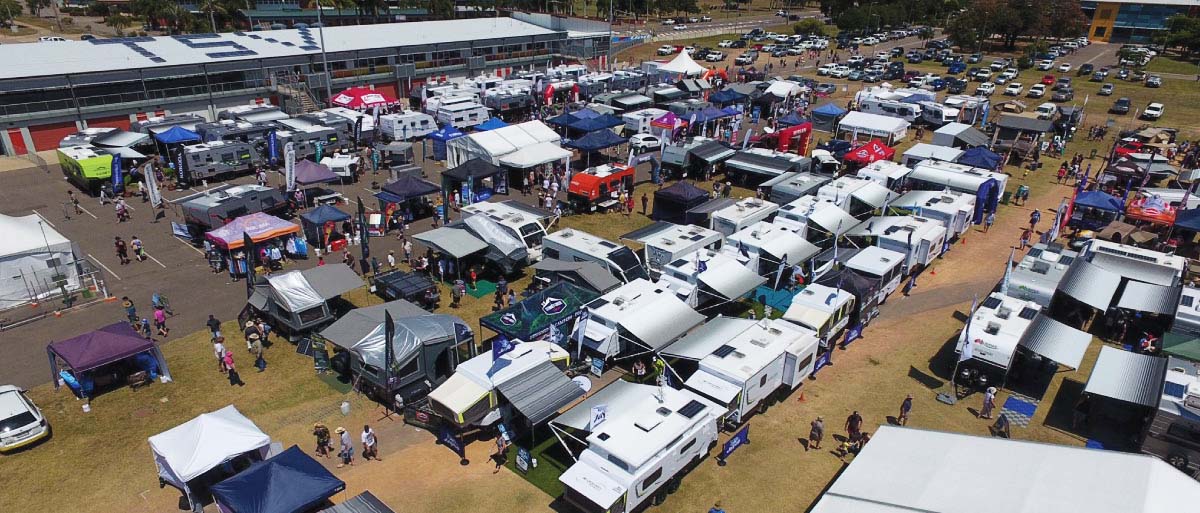 2016 EVENT STATISTICS
Statistic data received from polled 2016 exhibitors and visitors who subscribed to the event newsletter.
2016 EVENT GUIDE PUBLICATION
Australian Events produced 28,500 full colour Event Directories, with 22,500 being inserted into the Townsville Bulletin on Wednesday 7th September 2016. A further 6,000 copies of the Event Guide were printed and handed out to attendees at the entrance to the event.
2016 Exhibitor Survey Results
(Statistic data received from polled exhibitors who exhibited at the 2016 event.)
Was the Expo important to the promotion of your business ?
How would you rate the Events success overall ?
of exhibitors said that Exhibiting at events is a great way to generate sales and leads.
of exhibitors said they were happy with the amount of patrons that attended the event.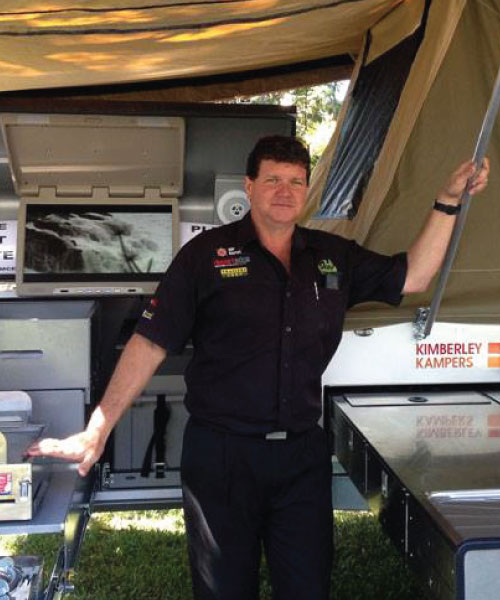 2016 Exhibitor Testimonials
Great Show held in Townsville each year defiantly worth a Look if your into the Camping Caravanning Outdoors!!!
A very user friendly event to promote sales for our business. Excellent organisation before, during and post event.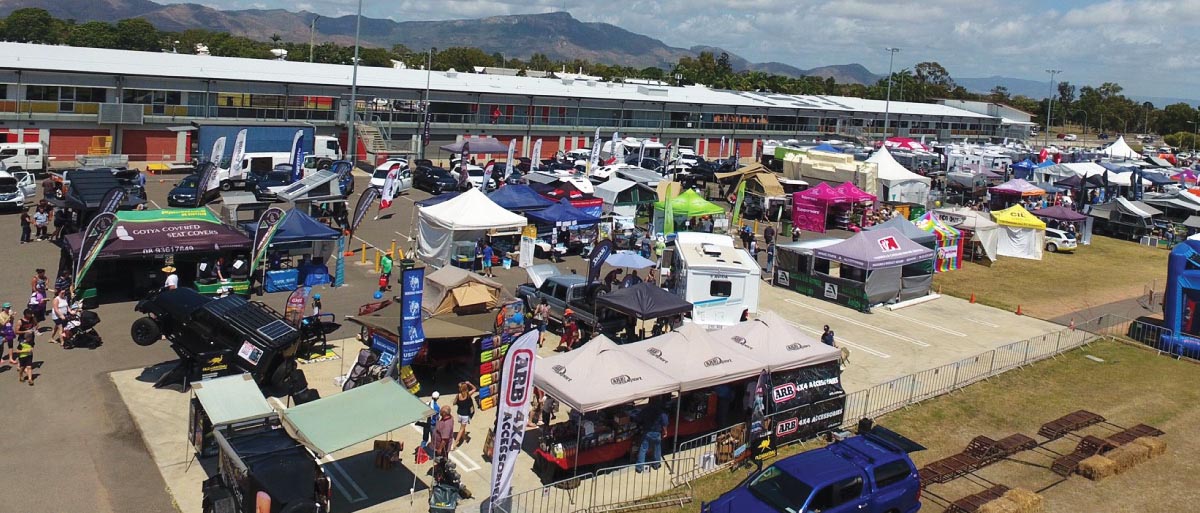 2016 Visitor Survey Results
How would you rate this event overall ?
Are you likely to recommend this event to your friends or colleagues ?
Are you likely to attend this event again next year ?
Did you make any purchases at this event ?
Do you intend to make a purchase at a later date from an exhibitor you saw at this event ?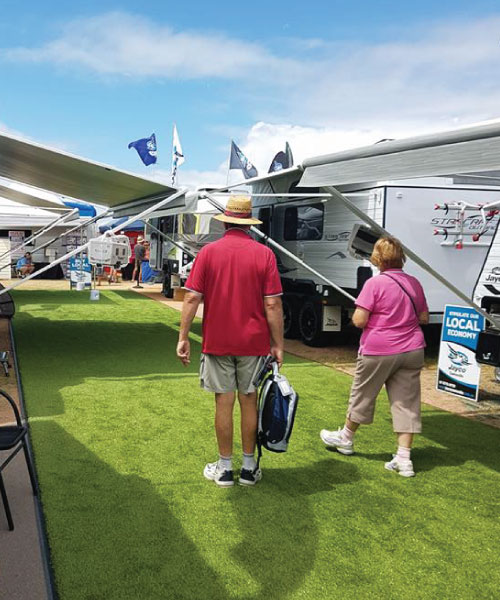 Main Products of Interest
Data provided by polled patrons at the 2016 Townsville Caravan, 4x4 & Outdoor Adventure Expo
Caravans

72%

Camping Equipment & Accessories

59%

Camper Trailers

43%

Auto & 4×4 Accessories

43%

Boating & Marine Accessories

24%

New Cars & Vehicles

19%

Holiday & Tourism Information

16%

Motorhomes

16%

Other

12%
2016 Visitor Testimonials
We got to compare different family caravans and the kids were entertained on the free kids rides. Shady spots to eat were very welcome.
Helen
We had a good time researching the latest designs and innovations in caravan and camping trailer + tow vehicles. We purchased must have items for gifts and immediate use.
Stein
We have been to quite a few caravan expo's in Brisbane in the past. North Queensland is right on track…. Great show guys.
Ray
We liked being able to see what is actually available rather than relying on the internet.
William
Didn't give ourselves enough time for all the show, great value!!
Mike
We found what we were looking for and had a fun time.
Barbara
I had an informative day and came away with some interesting information.
Sandy
Had a good time, no pushy salesmen at any site. Very relaxing atmosphere.
Roy
Great expo. Would recommend it to my friends.
John
2016 VISITOR EMAIL NEWSLETTER
EMAILS SENT OUT TO SUBSCRIBERS
Our popular Email Newsletter Club consists of patrons who have joined to receive information about the event. Featured exhibitors, list of exhibitors, Entertainment, Competitions and Prizes were continually promoted within these emails sent out daily and weekly leading up to the event.
JOIN OUR EVENT NEWSLETTER !
Stay up to date with event information PLUS go into the draw to win family passes to the event and more !
CLICK HERE TO JOIN NOW >
2016 Website Statistics
Week of the event: From 5th – 11th September 2016.
2016 Facebook Event Page Statistics
VENUE: REID PARK TOWNSVILLE
Railway Estate QLD 4810
2017 Townsville Expo Enquiry Form